SliceNet Newsletter #6                                          December  2019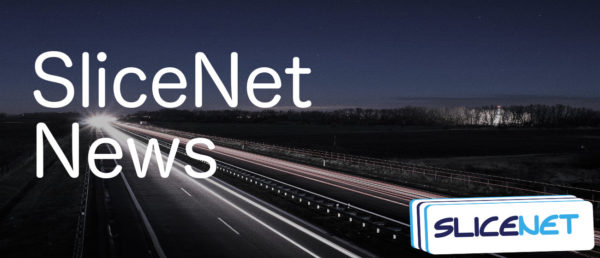 Welcome to the sixth edition of the SliceNet newsletter
This newsletter brings you a wealth of information. First up is an eHealth use case demonstration to the Health Service in Ireland, then two contributions to the ITU standards ITU-FG-5G. Then we bring you news of the collaboration between projects SliceNet and MATILDA. Finally, some news on SliceNet joining the ETSI community.
Happy Christmas and a prosperous New Year to all!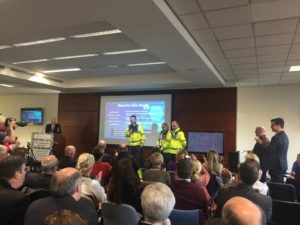 RedZinc demonstrated wearable mobile video for healthcare professionals with the help of emergency consultant Dr. Conor Deasy of Cork University Hospital and the Irish National Ambulance Service at the HSE Digital Academy Forum in Dublin, Ireland on 11th December 2019. Read more here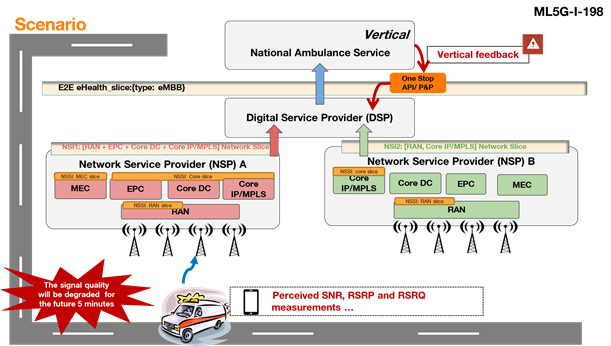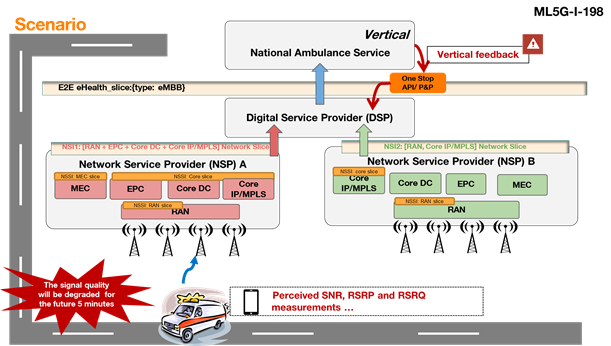 Orange Labs Networks, partner of SliceNet, has made a number of contributions in the area of Machine Learning and cognitive management to the ITU-T Focus Group on Machine Learning for Future Networks including 5G. These contributions included anomaly prediction and integration for an eHealth Use Case based on vertical feedback; and Noisy neighbour detection and integration in a virtualized infrastructure. Orange Labs Networks presented their contributions and an overview of SliceNet architecture with focus on cognitive closed loop to the ITU-T Focus Group ML5G under study group 13 at theweb-conference, on 20th November 2019. Read more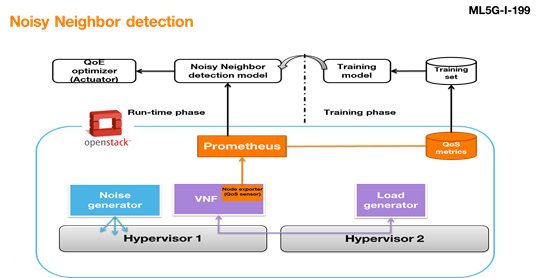 The ITU Focus Group is analysing ML for future networks in order to identify relevant gaps and issues in standardization activities related to this topic – including technical aspects such as use cases, possible requirements, architectures and others. SliceNet is contributing to the standardization of machine learning use cases for the advancement of 5G telecommunications systems. Read More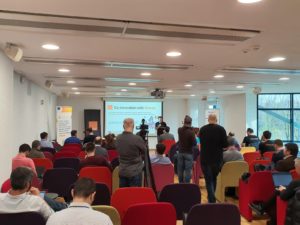 SliceNet and  MATILDA are collaborating on network slicing and 5G ready applications which will use those network slices. 5G network slicing is a network architecture that enables the multiplexing of virtualized and independent logical networks on the same physical network infrastructure. Each network slice is an isolated end-to-end network tailored to fulfil diverse requirements requested by a particular application. Read more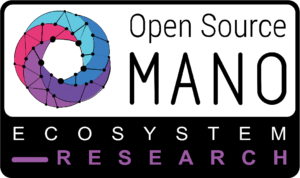 ETSI OSM is an industry-led ETSI community that is delivering a production-quality open source Management and Orchestration (MANO) stack aligned with ETSI NFV principles and specifications, and that targets to meet the requirements of operational NFV networks.
SliceNet recently joined the ETSI Open Source MANO (OSM) research community, that group together a wide set of heterogeneous research activities using or contributing to ETSI OSM. SliceNet uses ETSI OSM as part of the Service and Slice orchestration framework for combined coordination of end-to-end network slices and NFV Network Services provisioning and operation in support of the SmartCity, SmartGrid and eHealth vertical use cases. Read more

There are 15 partners in the SliceNet project comprised of industrial partners Eurescom, Germany; Altice Labs, Portugal; Ericsson Telecommunicazioni, Italy; IBM, Israel; OTE, Greece; Orange, Romania; EFACEC Energia, Portugal; and Dell EMC, Ireland; academic partners University of the West of Scotland, UK; Eurecom, France; Universitat Politècnica de Catalunya, Spain; and CIT Infinite, Ireland and SMEs Nextworks, Italy; RedZinc, Ireland; and Creative Systems Engineering, Greece.

This project has received funding from the European Union's Horizon 2020 research and innovation programme under grant agreement No. 761913.
The editor of the SliceNet Newsletter on behalf of the SliceNet Project is: Jeanne Caffrey, RedZinc Services Ltd., GEC, Taylor's Lane, Dublin 8, Ireland.