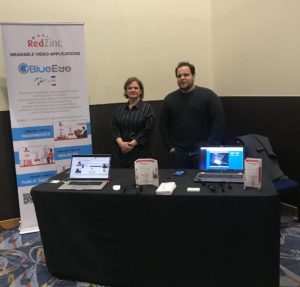 RedZinc was invited to participate in the 5G-ACIA Conference in Ricoh Arena in Coventry on 22 January 2020 in order to demonstrate the wearable video applications achievable on 5G networks. The UK government has invested £200M in 5G testbed facilities and trials nationwide in order to build business cases, foster a 5G ecosystem and lead research and development in urban and rural communities, manufacturing and healthcare.
For instance, 5G communications speeds allow manufacturing to use video technology to improve servicing and outputs and therefore to improve productivity. The conference promoted the many potential use cases in aviation, healthcare, industry and security. It presented the West Midlands as one of the most connected 5G regions in UK and possibly in Europe, with operators EE, 3, Vodafone and O2. 5G is primarily concentrated on cities Birmingham, Wolverhampton and Coventry and provides great opportunities for businesses to be ahead of competitors, to start new projects and drive digitalisation.
Part of the SliceNet project eHealth use case, RedZinc's video service delivery platform, BlueEye, can deliver prioritised video communications over a network "slice" on 5G networks, giving video network quality assurance in emergency situations. This can improve patient outcomes and operational efficiencies.
RedZinc, a SliceNet partner, demonstrates eHealth use case at West Midlands 5G-ACIA Conference in Ricoh Arena Coventry