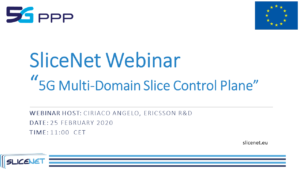 SliceNet are hosting a webinar series to show the outcomes and achievements from the various work packages and working groups in the project. The first webinar in the series discusses the 5G Multi-domain Slice Control Plane and is hosted by Ciriaco Angelo of Ericsson R&D.
Agenda
Introduction to the SliceNet Project

Requirements and challenges of 5G Multi-domain Slice Control Plane

Approach for design and prototyping

Technical Achievements

Industry Vertical applications

Slicing Innovation
Please come and join us for an informative session with a chance to ask questions.
SliceNet has developed a framework to meet the challenging requirements from the management and control planes of network slicing across multiple administrative domains, adopting 5G slices so that verticals can achieve their demanding use cases and manage the QoE for slice services.
End-to-End Cognitive Network Slicing and Slice Management Framework in Virtualised Multi-Domain, Multi-Tenant 5G Networks. Visit SliceNet website.
SliceNet are hosting an informative webinar series commencing 25th February 2020