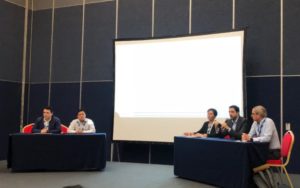 SliceNet organised an Industry panel session at IEEE Global Telecommunications Conference (Globecom 2018), Abu Dhabi, on 5G Network Slice Management, with participation of 5G-Transformer and FUTEBOL. The conference was held at the Abu Dhabi National Exhibition Centre (ADNEC) from 9 to 13 December 2018. IEEE GLOBECOM is one of the two flagship conferences of the IEEE Communications Society (ComSoc) and is a premium event that brings together the best researchers and professionals from academic, industry and government to exchange novel ideas that will shape future generations of communication technologies.
A very interesting discussion was moderated by Maria Barros Weiss, H2020 5G PPP SliceNet project Coordinator, Programme Manager at Eurescom, Germany, with panelists:
Jose Alcaraz-Calero, H2020 5G PPP SliceNet Technical Project Manager, Professor at University of the West of Scotland, UK

Xavier Costa Perez, Head of 5G Networks R&D, NEC Laboratories Europe, Germany

James Kimery, Director of Product Marketing, RF Communications and SDR, National Instruments, Austin, Texas, USA

Luiz daSilva, Director of CONNECT, Professor at Trinity College, Dublin, Ireland
Network slicing has emerged as a remarkable paradigm shift from 4G to NFV/SDN-enabled 5G and has been identified as a key 5G architectural requirement.
See the Globecom Program for details.
SliceNet Industry Panel at Globecom 2018