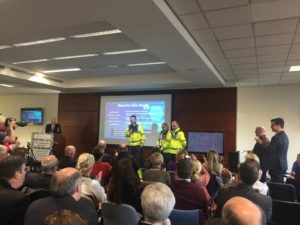 RedZinc demonstrated wearable mobile video for healthcare professionals with the help of emergency consultant Dr. Conor Deasy of Cork University Hospital and the Irish National Ambulance Service at the HSE Digital Academy Forum in Dublin, Ireland on 11th December 2019.
RedZinc's video service delivery platform BlueEye, was demonstrated in its newest format supporting multi-party communications. BlueEye uses the existing 4G network to deliver video from a remote patient attended by a paramedic back to one or more medical experts at hospital hotdesks. This is a dedicated, encrypted, end-to-end data delivery using a hands-free camera on a headset connected to a 4G mobile device.
For future 5G networks, RedZinc's platform has the ability to deliver prioritised video communications over a network "slice". This will guarantee the network quality of the video data in an emergency situation. The eHealth use case works to improve patient outcomes and operational efficiencies as demonstrated by the wonderful team of doctors and paramedics on the day.
SliceNet partner RedZinc demonstrates eHealth use case to HSE in Dublin