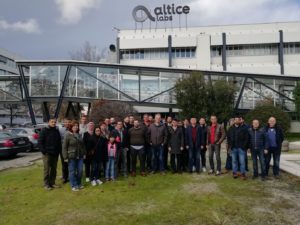 In Alveiro in Portugal, partner Altice Labs hosted the team in a fruitful face to face discussion 19th – 22nd November 2018. 
The plenary meeting was held to discuss the project status and next steps. The team stands in front of the Altice Labs building. 
The 6th Plenary Meeting focused on the following main topics:
Technical use cases workflows definition
Alignment between cognition problems and use cases – final demonstration requirements
SliceNet slice template discussion (data model)
Mechanism and platform for the integration of components and concrete integration roadmap/plan
Parallel technical sessions in WP4 / WP5 / WP6 / WP7 / WP8 / WP9.
SliceNet team face to face meeting in Alveiro in November 2018