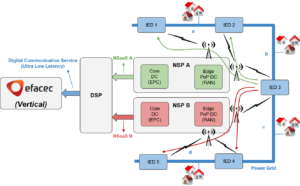 The deployment of the Smart Grid self-healing scenario in the Altice/Efacec testbed has already started, which will allow us to exercise the main concepts of SliceNet. Primarily, SliceNet wants to address the creation of an End-to-End network slice for the energy vertical in a multi domain network architecture.
In this scenario the Digital Service Provider (DSP) will provide the vertical with an End-to-End slice with specific vertical requirements (e.g. URLLC). This End-to-End slice is composed of 2 network slices given by Network Service Provider A (NSaaS A) and Network Service Provider B (NSaaS B), enabling the exploration of a multi-domain slicing scenario.
The energy power grid Intelligent Electronic Devices (IEDs) will connect to the RANs provided by the Network Service Providers. The implementation of these network slices will be driven by new network technologies such as NFV and SDN, especially in the Edge PoP DC and Core DC. Thus will SliceNet deploy the Smart Grid Self-Healing Use Case in an End-to-End slice.
Smart Grid Self-Healing Use Case – Hands On with SliceNet